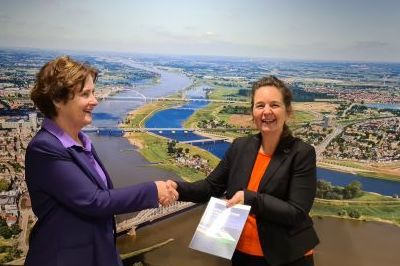 Green methanol for shipping – a call to action
In order to achieve the desired reduction of CO2 emissions in the shipping and offshore sector, the use of alternative energy carriers is indispensable. Within the Green Maritime Methanol project, an international consortium led by TNO is investigating the feasibility of green methanol as a fuel for the maritime sector.Machteld de Kroon, managing director of TNO Mobility and Built Environment, recently presented the report 'Green Maritime Methanol – a call to action' on behalf of the consortium consisting of 38 participants to Ruth Clabbers, Director General Aviation and Maritime Affairs at the Dutch Ministry of Infrastructure and Water Management.
In the Green Maritime Methanol project, companies and knowledge institutions work together to fill the existing knowledge gaps. This not only concerns technical, operational and economic topics, but also safety issues and possible transition paths to make the step towards implementation possible. Especially the long-term and broad cooperation between the international maritime industry with parties from the methanol supply chain and leading knowledge institutions make the project unique.
The development of methanol as a marine fuel is going fast. The report describes different ship types that will soon be able to sail on green methanol, so that significant CO2 reductions are achieved. Shipping companies such as Acta Marine, Maersk, Stena Proman and Van Oord are becoming leaders in sustainability.
In the report 'Green Maritime Methanol – a call to action', the consortium concludes that methanol is a promising option, but that the current European and national policy instruments are not (yet) well aligned with a sustainable transition to green methanol in shipping. In particular, the current focus on so-called "tank-to-wheel" emissions in policy measures may make the use of green methanol and other renewable energy carriers much less attractive.
That is why the report has been appropriately titled "A Call to Action", because now is the time to take action, so that the sustainable transition to green methanol is successful.
The consortium involves shipping companies Acta  Marine, Arklow Shipping, Boskalis, Chemgas, DEME, Royal Netherlands Navy, Fugro, Maersk, Rijksrederij, Thyssenkrupp Veerhaven, Van Oord, Victrol and  Wagenborg and their trade association KVNR.
From the maritime chain they are supported by shipyards Damen, Feadship, IHC, Oceanco and Sanlorenzo, engine suppliers Caterpillar, Pon Power, MTU and their trade association BOVAG, maritime suppliers Marine Service Noord and C-Job Naval Architects and classification societies American Bureau of Shipping, Bureau Veritas and Lloyd's Register .
To map the effects in the field of bunkering and the fuel chain, Port of Amsterdam and methanol suppliers OCI, Proman and their trade association Methanol Institute are involved. Finally, knowledge institutions are strongly represented with TNO, TU Delft, NLDA, MARIN and Ghent University, supported by the Maritime Knowledge Centre.
The project is supported by TKI Maritime and the Ministry of Economic Affairs and has a duration of two years. A third phase of the project is currently under development.
The report can be dowloaded here.